If you're flying from London Heathrow on a Singapore Airlines flight, there's a great lounge reopening you should probably know about, which makes for a very nice pre-departure alternative to the SilverKris facility.
The United Club at Heathrow's Terminal 2, which is located a short walk from the SilverKris lounge in the T2B (long-haul) pier, has become the first on the airline's network outside the USA to reopen since the pandemic hit in March 2020.
We strongly prefer the United Club to the lounges of Air Canada, Lufthansa, and Singapore Airlines, all of which are located in the same terminal.
It was therefore our go-to lounge whenever we flew on Singapore Airlines from Heathrow prior to the pandemic, with Champagne (served from Heathrow's longest bar), great food items and more luxurious shower suites than the SilverKris facility.
"We are so pleased to offer our premium customers access to our Heathrow lounge once again."

"I know just how much our customers appreciate this fantastic lounge. Our lounge experience provides comfort and relaxation, as well as excellent food and drink, shower facilities and workspace."

Bob Schumacher, United's Director Sales, United Kingdom and Ireland
The United Club at Heathrow is now operating from 6.30am to 9pm daily.
Location
The United Club at Heathrow is one of three Star Alliance lounges located at the T2B pier, around 10-15 minutes from the main T2A shops and short-haul departure gates, but adjacent to the departure gates for long-haul flights including those operated by Singapore Airlines.
Once you reach the T2B pier, you'll find the entrance to the United Club on the other side of the duty free store compared to the SIA SilverKris and Air Canada lounges, opposite gate D46.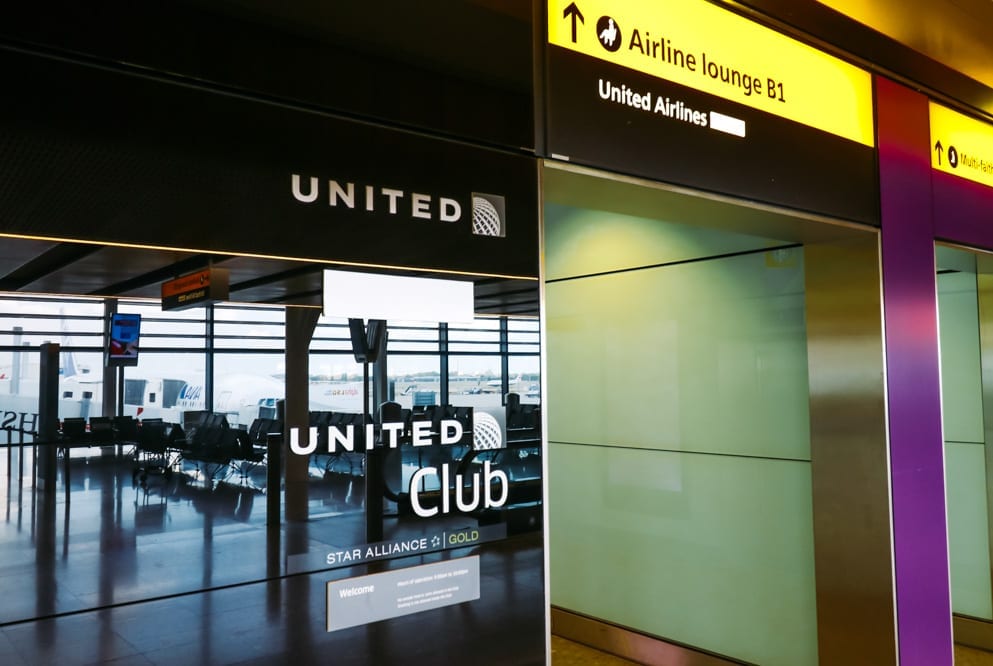 You can even use these superior "long-haul" Star Alliance lounges when departing on a short-haul Star Alliance flight from the T2A gates, but there's then quite a long walk back to your departure gate with no moving walkways (which operate in the T2A > T2B direction only).
Callum Elsdon has a a good write-up of the process on his blog post here.
Access
You'll be able to access the United Club if you are travelling in First or Business Class on Singapore Airlines or any Star Alliance carrier, or if you're travelling in Economy or Premium Economy Class with Star Alliance Gold status (including KrisFlyer Gold and PPS Club members).
Star Alliance Gold members can bring one guest into the lounge with them, provided the guest is travelling on the same flight.
Essentially, if you can access the Singapore Airlines SilverKris lounge at Heathrow, you can also access the United Club.
F&B
One thing about the United Club that really stands out is the extensive beverage list.
All drinks are complimentary (not the case at United Clubs in the USA), and the bar staff will also go "off-piste" and mix you a drink of your choice if they have the ingredients.
Even if you prefer the SilverKris lounge, popping over to the United Club just for a drink at the bar is a strategy we can strongly recommend if you have time!
In our opinion the food is better too.
On morning flights, the English Breakfast buffet in particular was fantastic, so much so we'd recommend skipping your hotel breakfast on departure day and just eating here!
The United Club also serves a (quintessentially British) afternoon tea selection for the post-lunch crowd, to pair with your Champagne.
It certainly makes the SilverKris lounge selection pale into insignificance, with a frankly less imaginative menu and only sparking wine on offer, except for the evening departures when an upgrade to Champagne finally gets popped for SQ319 passengers.
If you're yearning for a taste of home though, you'll still need to make the short walk over to the SilverKris lounge for some Laksa or Nasi Lemak! The beauty of flying Star Alliance in this case, either in Business Class or as a Star Alliance Gold member, is that you can now easily have a little 'lounge safari' at Heathrow pre-departure.
Showers
It's definitely worth noting that the United Club's eight spacious shower suites are all available, unlike the showers in the SilverKris lounge which remain closed "to safeguard your well-being".
If you're flying out on the evening SQ319 in particular, potentially after a long day following early hotel check out, the showers at the United Club are a great option to have even if there's nothing else about the lounge that particularly excites you.
It's usually quieter
One good thing about the United Club, which predominantly caters for the airline's own passengers, is that the current schedule of three daily Singapore Airlines flights falls into the quieter opening periods, as you can see from the SIA / United daily departure schedule below.
Lounge opens 06:30

SQ305 09:10 SIN

UA 10:00 EWR
UA 10:25 SFO

SQ317 10:55 SIN

UA 12:00 EWR
UA 12:05 IAD
UA 13:35 SFO
UA 13:45 IAH
UA 14:30 ORD
UA 16:00 EWR
UA 16:20 IAD

SQ319 20:35 SIN

Lounge closes 21:00
The other great thing about this lounge is that it remains open for nearly five hours after the last United flight departs from Heathrow (to Washington at 4.20pm).
That means from around 4pm – 9pm it's catering only for Star Alliance passengers, including those departing on SQ319 to Singapore at 8.35pm.
It makes the lounge much quieter than the SilverKris alternative during the evenings, which we can personally attest to from a pre-COVID trip in Business Class on SQ319 back in 2017. There were plenty of seats at the bar and numerous other seating options available, even with a full schedule of departing Star Alliance flights.
You can read several reviews of the United Club at Heathrow online, including this (pre-COVID) one by Live and Let's Fly.
How's the SilverKris alternative?
In October 2021 we published a full review by guest writer Callum Elsdon on the experience at the Heathrow SilverKris lounge in the post-COVID era.
Bear in mind the SilverKris lounge continues to impose a full vaccination or pre-departure test requirement for entry by all eligible guests:
Fully vaccinated against COVID-19 with any vaccine in the World Health Organisation (WHO) Emergency Use List with a vaccination certificate in English; or
A negative Polymerase Chain Reaction (PCR) test taken at an internationally accredited or recognised clinic, laboratory or medical facility, within two days prior your flight departure date; or
A professionally administered Antigen Rapid Test (ART), within two days prior your flight departure date.
Other lounges at Heathrow T2 do not have these requirements, and not all passengers flying on Star Alliance flights will necessarily meet the criteria (though most will I suspect).
Air Canada's Maple Leaf Lounge is also open
Another Heathrow T2B Star Alliance lounge option is the Air Canada Maple Leaf Lounge, which also recently reopened. It's a pleasant space with a more modern finish to the SilverKris lounge, and also offers Champagne.
It's not quite to the same standard as the United Club, but if you have time it's worth a visit. Shower facilities are available.
Bear in mind though the opening hours here are currently a more restricted 7am to 2.15pm each day, to time with Air Canada's flight departures, so this one only works for the morning SIA departures (SQ305 and SQ317).
Skip the Lufthansa lounge
The only other lounge for Star Alliance passengers departing from London Heathrow is the Lufthansa option in the T2A section, closer to the intra-Europe departure gates.
It's nothing special and we definitely wouldn't recommend SIA passengers using it, since the walk out to the T2B pier (where the United, Air Canada and SIA lounges are located) will be required anyway come boarding time.
Catering predominantly for short-haul travellers, there are no showers at this lounge.
Remember even if you're flying on a short-haul Star Alliance service with lounge access based on class of travel or Star Alliance Gold status (e.g. on TAP Air Portugal), you can still use the United Club during its opening hours.
The trek from T2A is probably not worth it for the SilverKris lounge in this example, but for the United Club we'd definitely make the walk if we had time!
Most of our readers gravitate to the (pretty ordinary) SilverKris lounge in London when flying on Singapore Airlines, but we easily regard the United Club as the best option at Heathrow Terminal 2.
It's therefore great to see this Star Alliance facility now reopened for eligible Singapore Airlines travellers, who should definitely be making a diversion here from (or at least in addition to) the SilverKris lounge, next time they depart from London.
Not only is the food better, especially the English Breakfast, but Champagne is offered all day and the superior shower suites are actually available, unlike at the SilverKris lounge where COVID cuts continue to reign.
Those craving Asian cuisine can always pop across to the SilverKris lounge later for their pre-boarding fix, and for even more variety there's also the option of trying out the Air Canada Maple Leaf lounge too when leaving on the morning flights.
(Cover Photo: United Airlines)