None of our readers will forget the big GrabRewards devaluation of July 2018, when the ride-hailing service unceremoniously slashed earning rates for everyone – with no notice to anyone!
In another devaluation this time last year, the company had thankfully learned the error of its ways and gave around six weeks notice of a subsequent 2020 devaluation.
This year it's another change to earning rates with the programme, with a modified earning structure coming into play from 22nd March 2021, around seven weeks from now.
New earning rates
Grab's latest tweak to its rewards programme is purely around the earning side, with a halving of the usual points accrual when you use a debit or credit card to make payment on the platform.
At the same time however, earn rates for using your GrabPay Wallet or GrabPay Card will be hiked by 50%.
"The world is changing. From the way we shop, to the way we pay our bills and get our meals. In the past year alone, we've seen more Grab users opting for safer and more convenient cashless payments. The way you spend has shifted, so must the way we reward you. That's why from 22 March 2021, GrabPay Wallet or Card users will be able to get more points, while still enjoying the same tier benefits."

Grab
Here's how the current and new earning structure looks.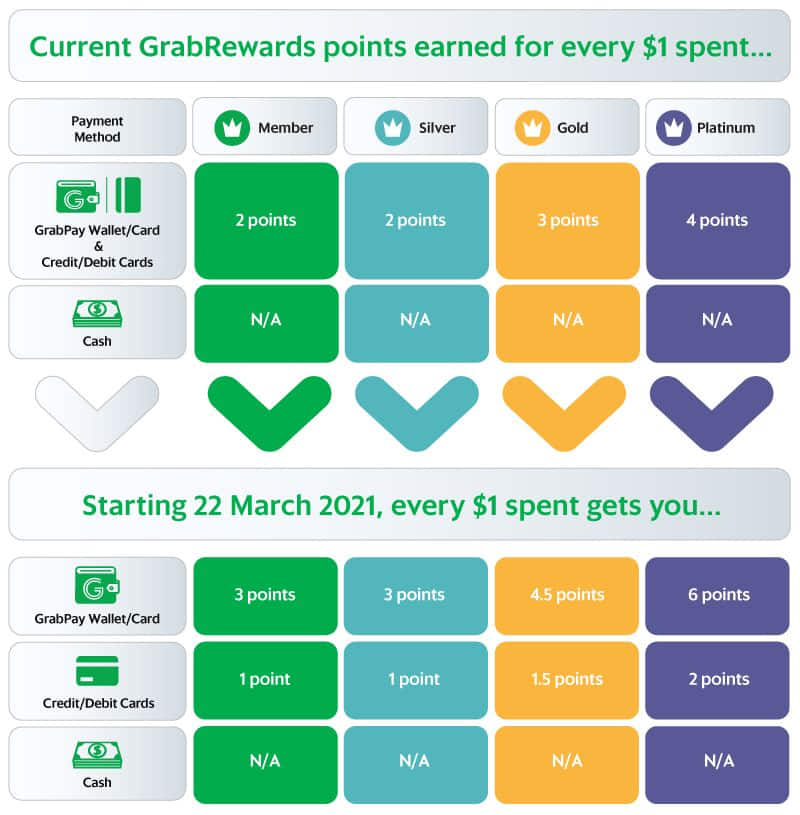 For a basic or Silver member in the programme to earn enough GrabRewards Points to redeem 50 KrisFlyer miles, it will now mean spending S$500 (instead of S$250) when paying by credit or debit card, after 22nd March 2021.
On the flip side, those members using a GrabPay Wallet or GrabPay Card will only need to spend S$167 on Grab transactions to unlock the same 50 KrisFlyer miles redemption from 22nd March, instead of S$250 now.
That's the equivalent of just 0.1 cents per mile using a regular credit card, shifting to 0.3 cents per mile using a GrabPay Wallet or GrabPay Card, so it's clear what you should be doing once this change takes effect!
Unfortunately you'll then lose out on your regular general spend (or promotional) earn rate for the Grab transaction using your credit card, such as 3.1 mpd to 3.3 mpd on the first S$200 per month with the SIA KrisFlyer Amex co-brand cards.
By earning fewer points for each transaction using a credit card, you'll also find it more difficult to earn or retain the various GrabRewards status levels, while switching to a GrabPay Wallet or GrabPay Card will make that easier since you'll then accrue more points for your regular Grab transactions.
GrabPay Wallet
Grab is also promising some upcoming new features for its GrabPay Wallet, including making it easier to top up from your bank account and make cash withdrawals.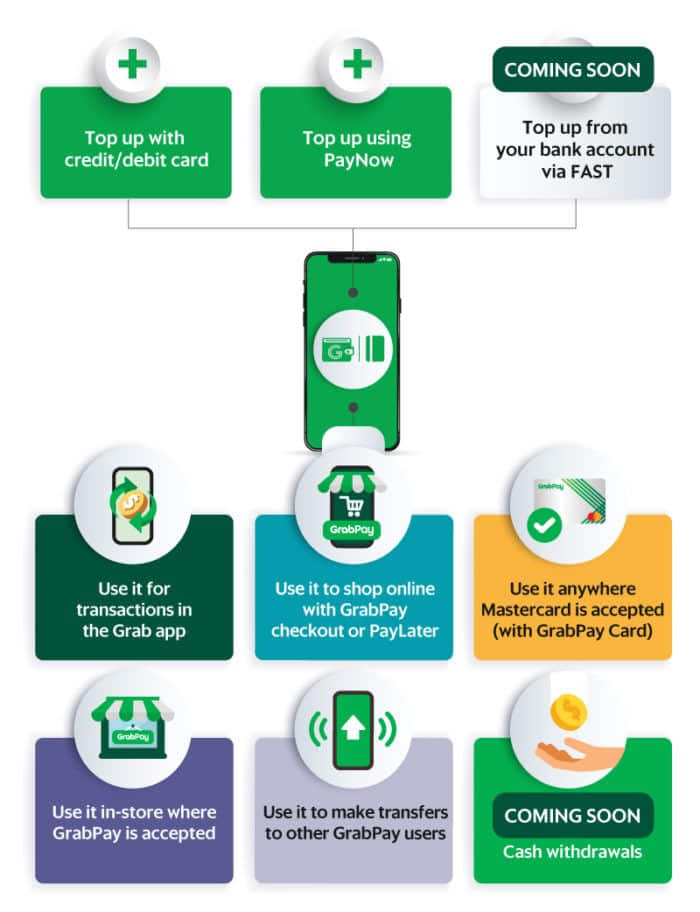 In a nutshell
If you're a GrabPay Wallet (including GrabPay Card user),

you will earn 50% more points

for every Wallet or Card transaction after 22nd March.
If you're a debit or credit card user,

you will earn 50% less points

for every transaction after 22nd March.
Cash users will continue to earn no GrabRewards points.
Grab is clearly trying to encourage more of its users to switch across to its GrabPay Wallet or GrabPay Card for enhanced earning, by also halving points earning using a regular credit or debit card as an added incentive for members to switch across.
You can lean more about all these changes here.
(Cover Photo: Jirapong Manustrong)