At 8.10pm on Thursday 6th May 2021, SilkAir flight MI411 touched down at Singapore Changi Airport following a 4 hour 41 minute flight from Kathmandu, Nepal. A few minutes later the Boeing 737-800 (9V-MGI) pulled up at gate G14, outside a largely-abandoned Terminal 4.
The passengers disembarked via steps to waiting busses, transporting them to Terminal 3 where they collected their checked luggage, then continued their journey into mandatory hotel quarantine.
While the few passengers on board were likely unaware, they had just been the last to travel on a flight operated by SilkAir (Singapore) Pte Ltd, the 'regional wing' of Singapore Airlines, which ceased commercial passenger flights that evening – to little fanfare.
Starting out over 30 years ago with a single jet and a different name, SilkAir grew to a fleet of 33 aircraft and carried 4.9 million passengers in 2019, its final pre-COVID year of operation.
The airline and most of its 1,500 staff have now been merged into Singapore Airlines, but where did it come from and how did it get here?
Here's our dedication to SIA's "regional wing".
SilkAir's origin: Tradewinds Charters
SilkAir can trace its history back 46 years, to the formation of Tradewinds Charters in 1975, a wholly-owned SIA Group subsidiary company that still exists to this day.
Back then the company wasn't even an airline – it was SIA's hotel management subsidiary and travel agency.
In conjunction with its hotel relationships, the company began chartering Singapore Airlines aircraft for inclusive-tour flights, using SIA pilots and cabin crew, predominantly to regional leisure destinations.
In 1977 Tradewinds even used its own IATA code "ST" on chartered Singapore Airlines 737-100 flights between Changi and Hat Yai, rather than the usual "SQ" code.
Tradewinds troubles
Things weren't always rosy for Tradewinds. The company nearly collapsed in 1983 when its 40% investment in the Tradewinds Manila Hotel, worth S$36 million (around S$67 million in today's money), was suddenly dissolved.
In 1984, however, Tradewinds was able to secure a travel operators' licence and took over SIA's inclusive-tour business, sealing its fortunes. By 1985, the company was recording a S$50 million turnover (S$90 million in today's money), a significant shift from the S$1.6 million booked the previous year.
By 1988 Tradewinds had adopted a new logo – depicting a soaring bird against a blue sky, with green land below.
There was a new problem for the company though. By the late 1980s, Singapore Airlines had replaced its narrow-body Boeing 727s and 737s with larger wide-body aircraft.
That meant Tradewinds charters were mostly being flown by the mainline carrier's 180-seat Airbus A310-200s, but these were proving too big for the subsidiary's needs, especially during the low season.
Airbus A310s were also too large to operate into some airports Tradewinds wanted to offer its customers, because they only had runways suitable for narrow-body jets.
The solution? Tradewinds needed its own smaller planes, with a more suitable capacity fit and capability to take off and land at smaller airports.
The making of an airline
In early 1988, over a decade after first forming and with the blessing of Singapore Airlines, Tradewinds decided to establish itself as an airline in its own right.
Later that year the company applied for its own Air Operator Certificate (AOC) and sourced its first aircraft – a 130-seat McDonnell Douglas MD-87, leased from Ireland's Guinness Peat Aviation (GPA) on an initial two-year term, with the option to extend to four years.
The jet was originally destined for the Government of Tonga, but the deal fell through and Tradewinds managed to secure it, delivered as 9V-TRY on 15th February 1989. The aircraft had an all-economy configuration in a five-abreast (3-2) layout.
"With the lease of an MD-87 aircraft, Tradewinds is set to develop the tour market as it will have greater flexibility in its operation especially in developing new destinations in the region."

Tradewinds Charters, 1988
Lessor GPA also supplied pilots and ground engineers to support the new carrier during its startup.
Fun fact: 9V-TRY's lessor GPA was owned by Irishman Tony Ryan. An industry stalwart, Ryan also became a 16% investor in Tiger Airways Singapore when it was formed 15 years later, in 2003.

Tiger Airways lives on as SIA's present day low-cost subsidiary Scoot Tigerair (the Scoot AOC was disbanded in 2017).
On 21st February 1989, Tradewinds launched scheduled flights with its sole MD-87 from Singapore Changi Airport to Pattaya, Thailand.
Though no one knew it at the time, SilkAir had been born.
Initial schedules for the new jet were:
Brunei: 2 x weekly
Hat Yai: 4 x weekly
Pattaya: 3 x weekly
Phuket: 5 x weekly
Kuantan: 1 x weekly
Fun fact: Two days before the official launch of scheduled flights, on 19th February 1989, Tradewinds operated a charity flight from Singapore to Phuket on its MD-87 for 60 underprivileged children and their families.
By 1990 Tradewinds had expanded services to destinations including Yangon, Kaohsiung, Jakarta and Phnom Penh.
Tioman flights
The MD-87 wasn't the only aircraft in the Tradewinds fleet in 1989. The airline was also flying from Singapore's Seletar Airport to Tioman in the late 1980s, though even the capable MD-87 couldn't manage to land on the Malaysian island's small runway.
Instead the airline leased a Republic of Singapore Air Force Short Skyvan 3M to fly the route!
Normally used for utility transport and search-and-rescue duties, it could accommodate 19 passengers. One traveller who flew to Tioman on the aircraft in 1989 described the experience:
"Very small box inside with a rather military feel (and smell) and a big net at the back for bags. I admit it was fairly noisy but I liked it."
Flight to nowhere
In 1989, when SilkAir was still Tradewinds, the airline took 120 passengers on a 'pleasure flight' using its MD-87 aircraft from Changi to Changi, over the South China Sea and back. Tickets were priced at around S$100 (S$170 in today's money).
Many of our readers will recall how Singapore Airlines opted not to engage its (grounded) customers with a 'flight to nowhere' as part of its Discover Your SIA events in 2020, to much disappointment.
The Tradewinds flight was part of the inaugural Travel World exhibition.
1990: The Boeing 737 era
Tradewinds' sole MD-87 was serving the airline well, but by the following year the airline decided Boeing's popular 737-300 model was a better fit for its growth, taking three such aircraft between July 1990 and October 1991.
The Boeing not only burned 13% less fuel on a 1,000-mile flight, it accommodated around 10 more passengers in its wider 3-3 cabin layout.
The airline's MD-87 was returned to its lessor at the end of its two-year lease in early 1991.
The birth of SilkAir
In 1992, Singapore Airlines decided to shift its Tradewinds operation into a regional feeder model for the mainline carrier.
US-based Landor Associates was tasked with a corporate rebranding of the airline, and the SilkAir name and logo were born on 1st April 1992.
The airline also launched a new 'Executive Class' cabin on the same day, later renamed 'Business Class'. There were 16 seats in the Executive Class cabin, with a four-abreast configuration, and 106 seats in Economy Class at the regular six-abreast.
The logo retained the stylised seagull adopted in 1988, illustrated soaring against a blue and turquoise background.
The Tradewinds name still lived on, as a wholly-owned SIA subsidiary called Tradewinds Tours and Travels, which still exists to this day.
On the frequent flyer side, SilkAir passengers could earn or redeem in the 'Passages' programme, and later of course with KrisFlyer miles, though the airline was never a Star Alliance carrier meaning redemptions weren't possible using alternative mileage currencies.
The new business model saw SilkAir primarily provide connectivity for SIA passengers from long-haul destinations and key regional cities to smaller points in the region, while still offering capacity for Tradewinds' leisure customers.
The expansion required more aircraft though, and SilkAir went on a buying spree, aiming to increase its fleet to 12 aircraft by 1997.
Silkwinds
Silkwinds, a combination of the airline's original and new name, was adopted as SilkAir's complimentary in-flight magazine when the airline was formed in 1992.
Originally produced every other month, the publication eventually became monthly and was produced until April 2020, when it was replaced with SIA's SilverKris publication, ahead of the eventual merger between the carriers.
If you're interested, here's a copy of the last ever Silkwinds edition available for you to download (PDF, 35.7MB):
SilkAir briefly operated wide-bodies
In 1993 SilkAir even introduced its first wide-body aircraft, with a pair of Airbus A310-200s (9V-STM and 9V-STN) leased from Singapore Airlines.
The two jets were around eight years old at the time, though their introduction coincided with (and perhaps even contributed to) the airline running into profitability issues, recording losses in 1994, 1995 and 1996.
The carrier decided to return the A310s to SIA in 1995, where they saw out a couple more years' service before starting a new life with the Belgian Air Force.
Fokker 70s
After experimenting with wide-body capacity, which didn't seem to be a successful strategy for the carrier, SilkAir went the opposite way with its next aircraft type, leasing a pair of 78-seat Fokker 70s to launch new routes to secondary Indonesian cities.
The first Fokker 70 was delivered in March 1995 and was used to launch flights to Padang, Pekanbaru and Lombok, while the second arrived in November 1995, launching a new service to Ujung Pandang.
The two aircraft remained in SilkAir service until 2000.
1997 crash: MI185
The saddest day in SilkAir's history was almost certainly 19th December 1997.
That afternoon SilkAir flight MI185 from Jakarta to Singapore, operated by the airline's youngest Boeing 737-300 aircraft at the time, 9V-TRF, crashed into the Musi River near Palembang on the Indonesian island of Sumatra.
All 97 passengers and seven crew members on board were killed, after the aircraft left its usual cruise altitude and descended sharply, impacting the ground within a one-minute period.
"The investigation yielded very limited data and information to make conclusions possible."

NTSC
The official report by the Indonesian National Transportation Safety Committee (NTSC) failed to reach a conclusion for the cause of the accident, though the U.S. National Transportation Safety Board (NTSB), who were participants in the investigation, vehemently disagreed.
"Based on the evidence, the departure from cruise flight was likely an intentional maneuver."

U.S. National Transportation Safety Board
On the accident flight, the cockpit voice recorder (CVR) and flight data recorder stopped operating, at different times and for no apparent reason, just minutes before the aircraft departed level flight and entered a steep vertical dive. According to the NTSB, the CVR was disconnected intentionally.
No airplane-related mechanical malfunctions or failures caused or contributed to the accident, and

The accident can be explained by intentional pilot action. Specifically:
the accident airplane's flight profile is consistent with sustained manual nose-down flight control inputs;
the evidence suggests that the cockpit voice recorder (CVR) was intentionally disconnected;
recovery of the airplane was possible but not attempted; and
it is more likely that the nose-down flight control inputs were made by the Captain than by the First Officer.
Jim Hall
Acting Chairman, NTSB
SilkAir stopped using the MI185 flight number after the accident, a common industry practice. Tiger Airways briefly registered an Airbus A320 9V-TRF in April 2012, but changed it to 9V-TRG before it entered commercial service.
There are two memorials to the 104 victims of MI185, one beside the Musi River crash site in Indonesia and another at Choa Chu Kang Cemetery in Singapore.
Airbus A320 family
In late 1996 SilkAir was looking to replace and expand its fleet of five Boeing 737-300s with larger aircraft that could fly further, and also plan for a higher capacity type to replace its two Fokker 70s, which were on lease until early 2000.
The airline negotiated with the three primary commercial aircraft manufacturers at the time, with interest focused on the Airbus A319/A320, Boeing 737-600/-700/-800 and McDonnell Douglas MD-90 and MD-95 types.
In November 1997, the airline agreed to purchase eight Airbus A320 family aircraft for its fleet renewal; comprising five Airbus A320s to replace its Boeing 737-300s and three Airbus A319s to replace the Fokker 70s.
The first Airbus A320 was delivered in September 1998, fitted with 16 Business Class and 126 Economy Class seats, while the smaller Airbus A319s started to arrive the following year, in September 1999, with 12 seats in Business Class and 106 in Economy Class.
By May 2000 SilkAir had moved to an all-Airbus fleet with three Airbus A320s and three Airbus A319s in service, though the type then drove the airline's biggest growth spurt with future orders expanding SilkAir to 24 aircraft by 2014.
Later versions of the A319s and A320s delivered from 2004 saw the carrier move to a smaller Business Class section and additional Economy Class seats, with 8J/120Y on the A319s and 12J/138Y on the A320s.
While they were in the process of being phased out, a handful of Airbus A319s and A320s remained in service with SilkAir until the onset of the COVID-19 pandemic in 2020.
2001: Female pilots
Believe it or not, Singapore had no female airline pilots until 2001, when Anastasia Gan Kum Yoke qualified and joined SilkAir, becoming the first female pilot in the SIA Group.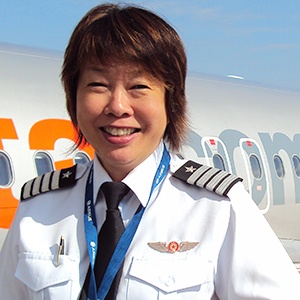 Anastasia was appointed as an Airbus A320 First Officer with the airline, later leaving in 2004 to Jetstar Asia where she became a Captain and then to Tiger Airways.
Vanessa Ess, pictured above, was the first female to be accepted on SilkAir's cadet pilot programme in 2001. A former flight attendant, she rose to the rank of Captain for the airline.
Remarkably, Singapore Airlines did not hire its first female pilot until 2016, 15 years after the regional wing.
2005: Video-on-demand IFE
In January 2005, two years before the first iPhone was even announced, SilkAir became the first Asia-Pacific airline to provide portable video-on-demand in-flight entertainment systems to its passengers.
The device, a digEplayer 5500, clearly looks archaic by today's standards, but at the time its 11 full-length movies, four TV shows, 80 audio tracks and six music videos was pioneering on a short-haul narrow-body aircraft.
The digEplayer was available on SilkAir's longer flights:
Between Singapore and China (Xiamen, Fuzhou, Chengdu, Chongqing, Kunming)
Between Singapore and India (Hydrabad, Trivandrum, Kochi)
The device was complimentary for Business Class passengers and offered at a fee for those travelling in Economy Class.
The device was short-lived of course, like it was with most airlines.
The airline later adopted SilkAir Studio in May 2014, allowing streaming of content to personal mobile devices from an onboard file server.
The system is still used on former SilkAir Boeing 737-800s operating for Singapore Airlines, but is now branded as KrisWorld. In Business Class, passengers receive an iPad to stream the content on flights greater than two hours.
Boeing 737-800s and MAX 8s
In August 2012, after 12 years as an all-Airbus operator, SilkAir made a surprise switch back to Boeing with a large order for 23 Boeing 737-800s and 31 Boeing 737 MAX 8 aircraft, for expansion and fleet replacement.
It was the airline's single biggest aircraft purchase, worth US$4.9 billion at list prices, and was seen as a big win for Boeing since by then SilkAir was regarded as a long-time Airbus customer.
Airbus claimed it lost out to its rival only because it couldn't offer early delivery slots, but there's always a possibility of 'they would say that, wouldn't they'!
Earlier that year, Boeing was said to be handing out attractive discounts for its 737 MAX aircraft to gain market share, in a move Airbus described as "trying to start a price war". SilkAir was no doubt one beneficiary!
The first Boeing 737-800 was delivered to SilkAir on 4th February 2014, with 12 Business Class and 150 Economy Class seats, giving it 8% more capacity than the airline's A320s.
We flew on the aircraft in February 2020, which turned out to be our last flight before COVID-19 scuppered all subsequent travel plans.
On 4th October 2017, when the airline already had 17 Boeing 737-800s in its fleet and was rapidly phasing out its Airbuses, SilkAir took delivery of its first Boeing 737 MAX 8.
The improved range of the MAX allowed the airline to launch non-stop flights from Singapore to Hiroshima, Cairns and Busan.
The aircraft had 12 Business Class seats and 144 Economy Class seats, with one less seat row in Economy compared to the Boeing 737-800s. This allowed for 25% more legroom and additional recline in the enlarged Business Class cabin, a strategy we now know was in order for the space to accommodate lie-flat seats in future.
737 MAX grounding
Two fatal crashes of the Boeing 737 MAX 8, Lion Air Flight 610 in October 2018 followed by Ethiopian Airlines Flight 302 in March 2019, prompted aviation regulators worldwide to ground the aircraft type.
Singapore was no exception with the Civil Aviation Authority (CAAS) temporarily suspending the type's operation on 12th March 2019.
At the time SilkAir was operating six MAX aircraft on around 130 flights per week, causing a significant strain on its resources and causing some flights to be switched to mainline SIA operation, including to Yangon and Phuket.
The grounding also scuppered plans for SilkAir to transfer its Boeing 737-800s to low-cost subsidiary Scoot, since it needed to retain them in its own fleet to cover for the grounded aircraft and lack of new MAX deliveries for the foreseeable future.
The MAX grounding became prolonged, necessitating SilkAir to move the aircraft into more suitable desert storage conditions at Alice Springs Airport in Australia.
At the time of writing three of these six aircraft have now been returned to Singapore, with many regulators around the world lifting restrictions on the MAX and CAAS reportedly preparing to do so in turn.
Fleet timeline
Here's a graphical timeline of SilkAir's fleet development, from Tradewinds days right through to the final passenger flight earlier this month.
SilkAir Fleet Timeline
As you can see there was often some overlap, with the airline operating up to three or four different aircraft types at certain points in its history.
Uniforms
When SilkAir was first founded as an airline under the Tradewinds brand in 1989, the cabin crew uniform set the tone for a holiday airline, taking people on well-earned breaks to resort destinations.
The outfit was by Singapore designer Celia Loe and featured seagull motifs to match the Tradewinds logo.
Surprisingly, these uniforms were carried through to the SilkAir operation in 1992, though by 1994 as the airline began expanding to more business destinations, a more formal attire was sought.
Paris fashion house Balenciaga designed a jacket and skirt combination, still closely matching the airline's blue, green and white colour scheme, with a floral blouse.
It was 10 years later before the airline changed its cabin crew uniform again, in favour of a one-piece wrap dress designed by the carrier's own cabin crew, which was used for 11 years from 2004 to 2015.
Finally in 2015 the airline adopted its most recent and final uniform design, by Singapore fashion and lifestyle designer Alexandria Chen.
For female crew there were two variations, an aqua-blue for junior flight attendants and a plum-red for senior crew, plus a seagull-patterned georgette bow pin.
Male crew wore a navy waistcoat and trousers, with an aqua-blue or plum-red tie for junior and senior crew members respectively.
For most of our readers, it's these last two uniform designs they will remember most when flying across the region on SilkAir flights.
Food
Since inception, SilkAir served a complimentary selection of both Asian and Western meals on its flights.
In July 2016, the airline launched its All-Time Favourites menu for Business Class passengers, a range of pre-bookable choices on flights of 3 hours or longer.
A similar concept to SIA's 'Book The Cook' service, the SilkAir selection included dishes like Hainanese Chicken Rice, Roasted Salmon Fillet, Fried Carrot Cake and Mee Rebus.
In 2018 SilkAir was even serving Abalone, a delicacy in Asia and some other parts of the world, as an appetiser on longer flights, as experienced by BK Tan on a service to Kathmandu in Business Class.
Awards
SilkAir notched up no fewer than 90 awards between 1995 and 2019, leading SIA to brand it "Asia's most-awarded regional airline".
For a full list of SilkAir's awards, check out the trophy cabinet here.
SIA merger
Following rumours in 2017, Singapore Airlines finally announced in May 2018 that it would merge SilkAir into the mainline carrier, to achieve a streamlined single full-service (SIA) and single low-cost brand (Scoot) across both regional and long-haul flights.
"SilkAir will undergo a significant investment programme to upgrade its cabin products as part of a multi-year initiative that will ultimately see it merged into SIA."

Singapore Airlines, May 2018
On 31st March 2019, SilkAir's website was disbanded, with all reservations and booking data transferred to the SIA website.
Singapore Airlines released a video promoting the training conducted to integrate SilkAir cabin crew into the SIA fold.
Singapore Airlines has already integrated nine former SilkAir Boeing 737-800s into its fleet, ahead of a planned new cabin product launch on up to 14 Boeing 737 MAX 8 aircraft this financial year.
The process will include flat-bed Thompson Vantage seats in Business Class and both IFE and Wi-Fi connectivity across the aircraft, for a more consistent experience with the airline's wide-body jets.
Summary
In the late 1980s, Singapore Airlines phased out its smaller single-aisle aircraft in favour of wide-body jets. That gave its division Tradewinds Charters a problem – the new planes were too big for its needs, and couldn't serve some smaller airports in destinations popular with tourists.
The result? SilkAir was born, initially as Tradewinds but then later under its own branding, as the business model shifted from taking holidaymakers to exotic destinations into a regional feeder service for SIA.
With its full service ethos including a dedicated Business Class cabin, the airline won many awards for its service standards over the years.
SilkAir has certainly been through its ups and downs over nearly three decades of operation since its inception, marked not least by the tragic loss of MI185 in 1997.
The airline, either as Tradewinds or SilkAir, has operated a number of aircraft types including McDonnell Douglas MD-87s, the Short Skyvan(!) and even wide-body Airbus A310s in the early 1990s.
From a personal perspective, while it always played second fiddle to Singapore Airlines, we certainly had consistently good service when we flew with SilkAir, in either cabin.
So farewell, SilkAir. It really was "a joy to fly".